— 18th June 2012
by Nathan Adams
Collect is a small but ambitious bi-monthly hailing from Adelaide in South Australia. Now up to their eighth issue, the magazine has slowly been moving from being heavily Adelaide focused to having a range of stories from a greater variety of places around Australia and around the world.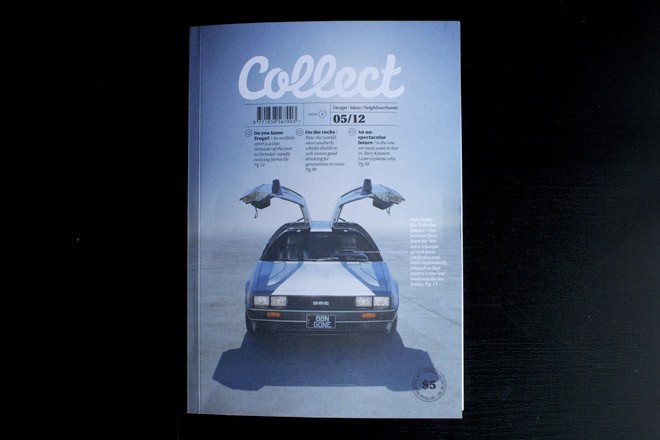 It's easy to criticise the magazine as being Monocle-lite. The inspiration is obvious; the tone of writing is often similar to Tyler Brûlé's monthly tomes, and even the subject of articles is heavily derivative (How we'd do it is a doppelgänger of Monocle's illustrated makeovers of city blocks, airlines and newsrooms). But Monocle-lite is probably an apt description. Whilst Monocle is focused a lot on the city/country/international level, Collect is all about the small scale. They aim to celebrate neighbourhood communities; and the people, culture, built environment and small-businesses that make them. Where Monocle makes over a high street, Collect makes over the local fish and chip shop. And as part of that focus, their stockists are the small businesses they admire rather than the chain newsagents.
I do find that they occasionally struggle with the balance. There's a clear goal of trying to lighten up the language throughout, but it varies with some articles being quite dry but others far too light in a way that feels out of place (The title of the section Who Dat? particularly grates). It comes across as a bunch of writers who generally like a bit of fun, trying to don their serious caps, and some succeeding better than others.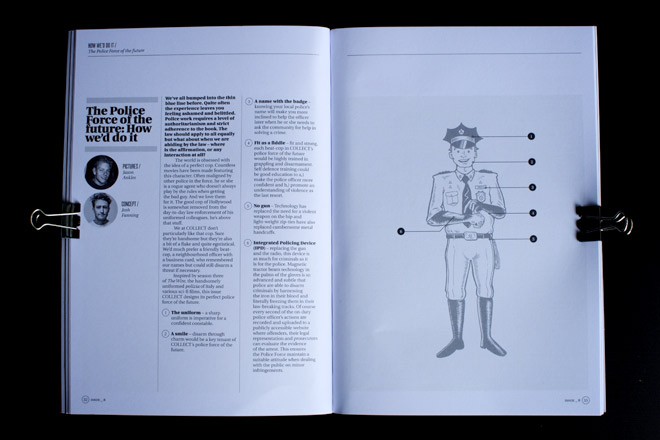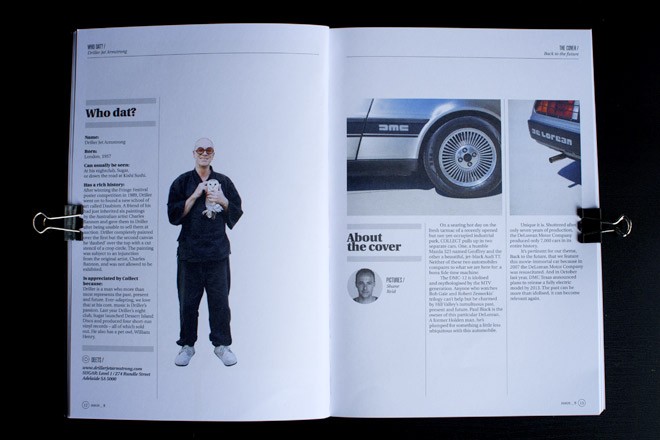 This particular issue follows the theme of 'Back to the Future', and appropriately (or perhaps obviously), has the only DeLorean in Adelaide on the cover. The main essay this issue is a dissection of Dieter Ram's 10 principles of design via personal experience. For those that might dismiss the principles off-hand as unnecessary elitism, the anecdotes given by the writer help hammer home that good design benefits all. The article longing for analogue over digital is less successful. It's a subject written about many times before, and I dare say given the audience Collect is aimed at, it's preaching to the converted.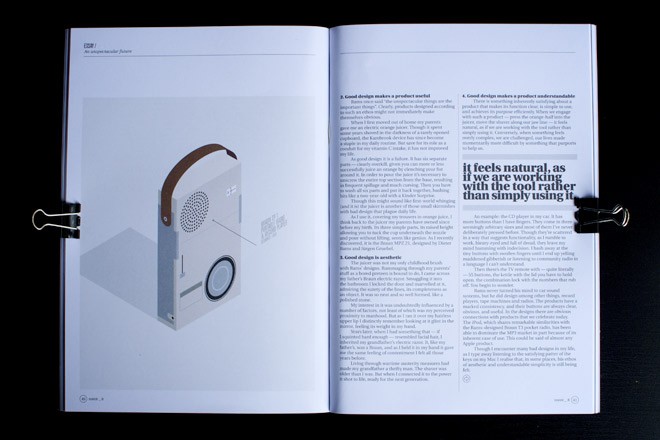 Perhaps one of the most successful ongoing sections is 'Know Your Village'. Previous issues have featured a number of Adelaide areas, telling the story of the area and offering some suggestions on how to improve it. This time they head to the Melbourne suburb of Yarraville, where they dig up the 1930s-era cinema The Sun Theatre, the Yarraville Market, the Community Centre, and the odd sport of Trugo (complete with diagram explaining the basics). They've dropped the suggestions, for the better I think, and the chance to explore an unfamiliar inner suburb through the writing is genuinely interesting and is probably the strongest at fulfilling the magazine's aim.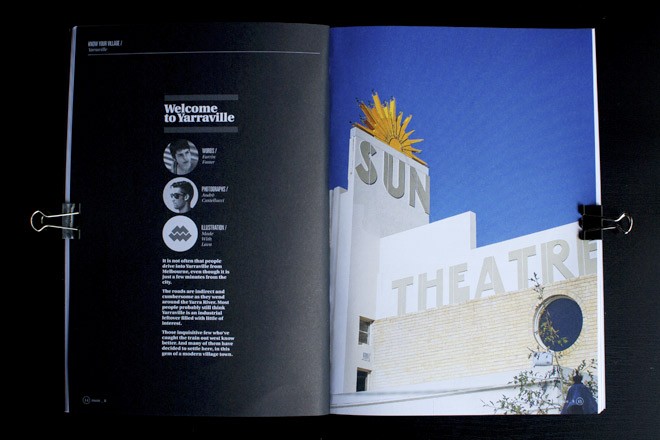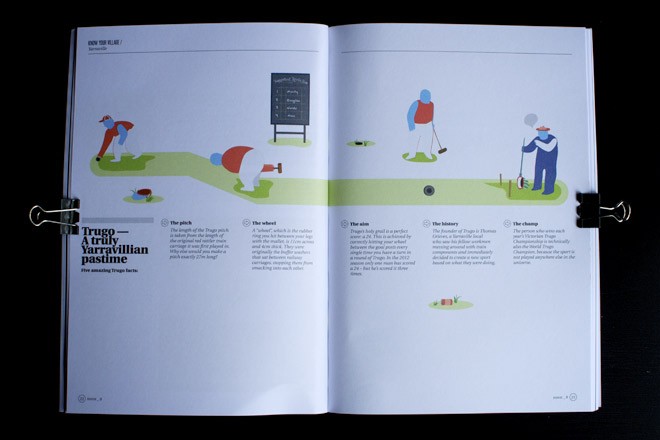 The shift away from Adelaide is interesting. Being a local, a lot of what was written about in previous issues was fairly familiar to me (particularly the many items about the East End, where our studio is based). While it was nice to read about what was just around the corner, it made me wonder about how the magazine would fair outside of South Australia. The way they've approached covering areas further abroad is the same, and to me it shows that it can indeed be interesting to read about the small areas of other cities that would never be on the radar of a Lonely Planet writer. Whether you are in a big city or a small one, there are always parallels that you can draw about a local level of a city to your own, and how someone else has approached issues in their neighbourhood can make you think about yours.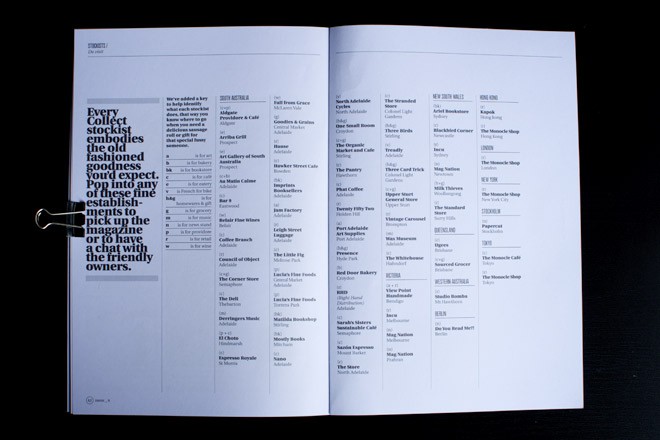 Coming in at 62 pages in such a small format (A5), Collect is a fairly quick read, but perfectly suited for browsing through whilst sipping your flat white at an approved coffee shop.

is a graphic designer & shoegazer based in Adelaide, South Australia. He's spends his days working on branding and web design at sector7g, and is obsessed with shoegaze & dream-pop, magazines, black & white, cameras, concrete and cycling.
Twitter: @nathanadams
Personal Site: nathanadams.net
---
1 comment