— 9th July 2012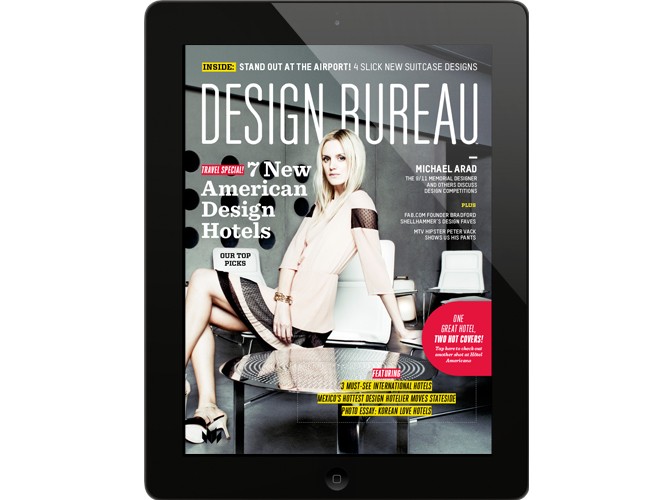 Following in the tradition of good digital magazines, Design Bureau, by ALARM Press in Chicago, is a gem I came across when looking for design magazines in the iTunes Newsstand store. From fashion to graphic to interior design, the articles highlight a multitude of beautiful creative disciplines and their products.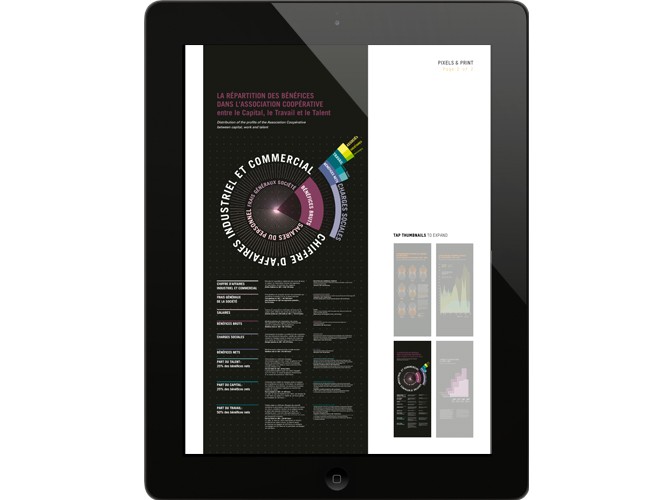 The interactive features of the magazine include hot buttons, vertical scrolling story navigation and touch screen galleries. It uses intuitive icons to help direct the user where to press to get more information and then allows the user to hide the information when they are interested in getting a better view of the photos, which are used quite amply.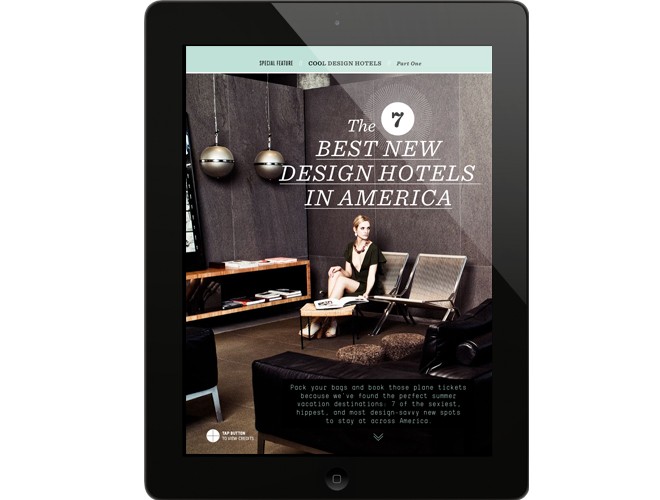 The issue being highlighted here is May/June 2012; it's focus being American Hotel design. The main article covers hotels from Palm Springs to New York City and profiles Mexican Hotelier, Carlos Couturier, who's name alone sounds quite luxurious, and his hand in New York's stylish, Hotel Americano. Mixed in with the hotel articles are gorgeous interior photos, hotel bar and restaurant reviews, as well as a drink recipe menu; all from the fantastic homes away from home. If one is looking to travel to a major American city, this guide is a great asset in your search of places to stay.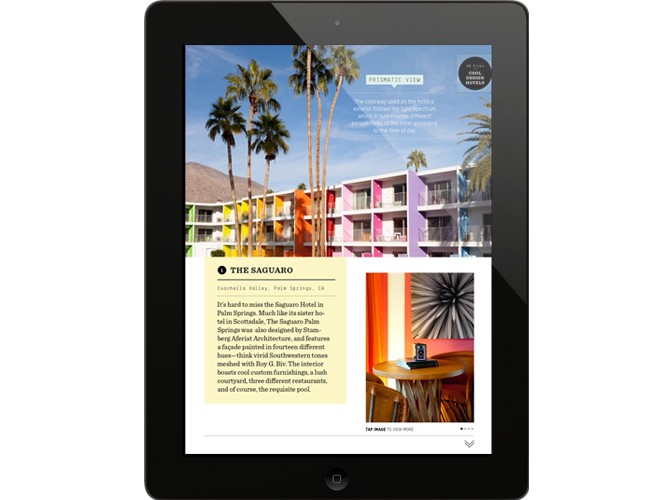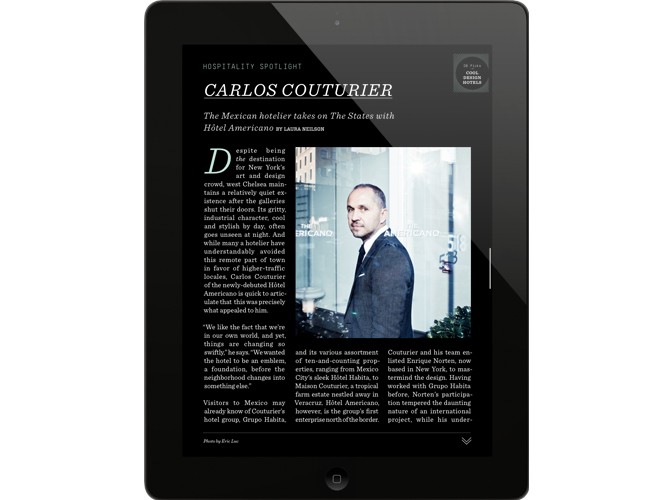 Beyond the main article, a series of other very engaging entries include; the very amusing Guerilla design profile of New York agency, Exit Creative's use of comical low budget DIY flyers, to promote a neighborhood Wine company within a local radius.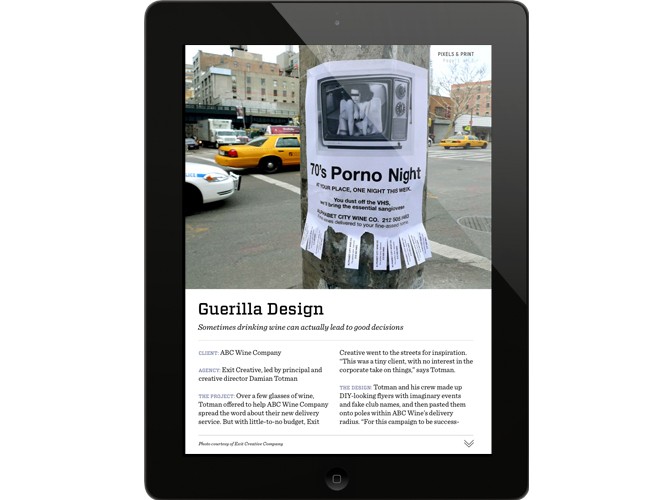 Another great information graphic is the Barware page, with interactive hot spots that appear over a selection of beverage glasses, detailing why they are shaped for maximum taste (I have to admit I never heard of a Genever before I read this) and then provides an enticing cocktail recipe.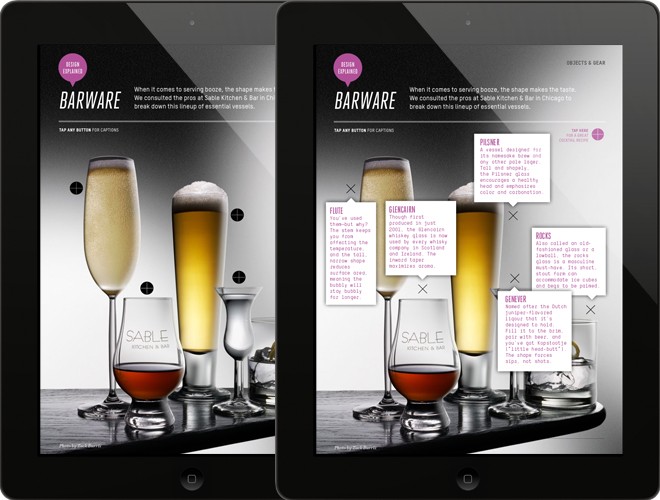 The orientation is portrait, showing one page at a time over spread views, but this allows for better, more controlled readability when the vertical article scroll feature is used(each article will have a supporting icon at bottom to indicate one can scroll down to read more). With ample photography, engaging copy, and a balance between the two, Design Bureau is a must have for the design conscious and makes a bold statement in your library. It is published on a bi-monthly schedule.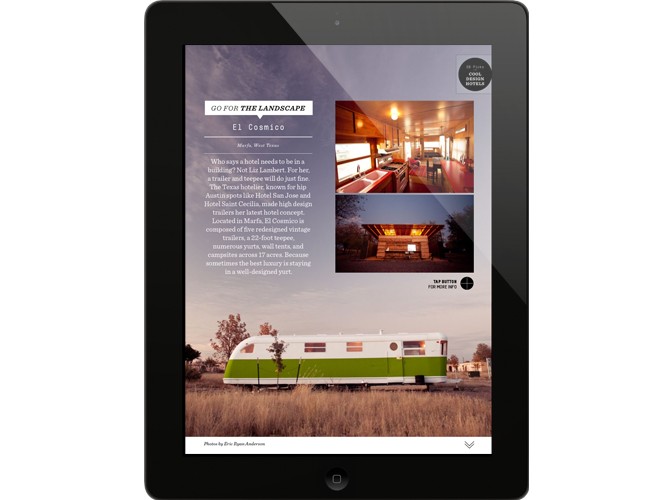 is a graphic designer living in the United States. You can check out his website at www.cwkdesign.com
---
1 comment