— 16th July 2012
I was recently hand delivered a copy of Popshot magazine. Although I never really doubted it, I'm happy to confirm: the magazine was well worth the smuggling effort.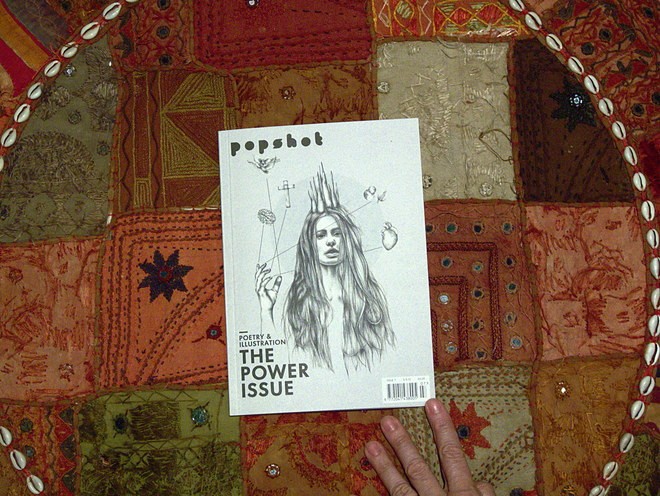 Living in a country where most publications are religious and most expressive images are based on geometry, I am surrounded by an alternative artistic beauty. We lack poetry and music, but I have grown to love the repetition of even the 4 AM prayer calls. We lack art museums, but I find beauty in the crumbling abstract statues in the city's roundabouts. But there is something I will refuse to appreciate: the lack of magazines and books.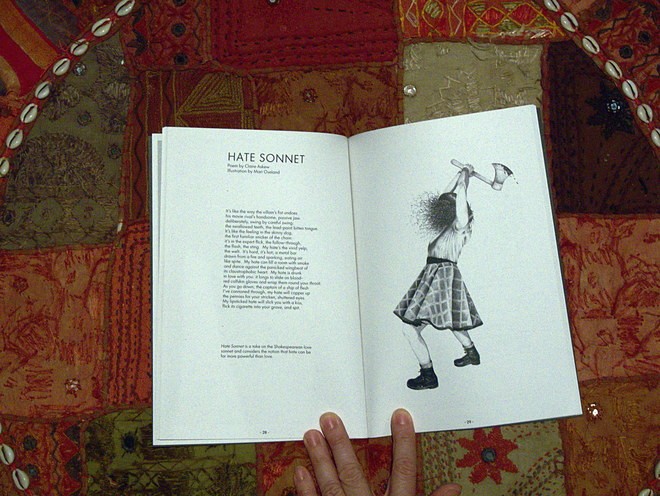 We fly out of the country to spend entire days in bookshops and libraries, and we fly back in knowing that even children's magazines can be removed from us at the airport. Every precious magazine we manage to bring in is treated with the awe it deserves. Popshot is my latest arrival.
Popshot is a British art publication, published at a calm pace of two per year. Each issue contains a collection of contemporary poems written to a specific theme, and an illustration commissioned to accompany each of the poems.
The issue on my night stand is #7, the Power Issue, with a cover illustration by Silje Kristiansen.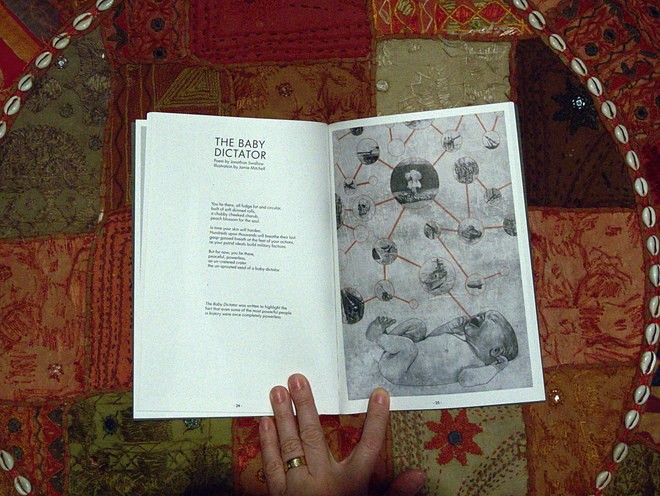 Popshot's small size (24 x 17 cm) not only helps us with the smuggling task, but gives the magazine a purposeful feel. The magazine reminds me of a beautiful haiku that has been achieved only after unhurried consideration, weighing of words, and leaving out all that is unnecessary. Un-imposing matte grey pages. Just perfect.
Each spread provides a different viewpoint and artistic take on Power. Even though each of the 20 contributing poets started with the same set of instructions and the same word, the resulting poems are all original and widely different. The illustrators' interpretations of their assigned poems have diversified the pieces even further.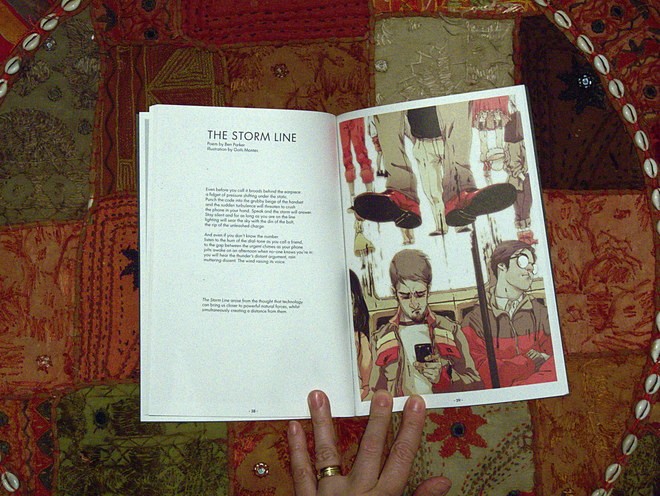 One of the poems and viewpoints I'd like to mention is Ben Parker's 'The Storm Line', which was inspired by the thought that technology can bring us closer to powerful natural forces but at the same time it can increase the distance. In 'Hate Sonnet', Claire Askew's view is that hate can be much more powerful than love. Jonathan Swallow's 'The Baby Dictator', highlights that the powerful have once been completely powerless.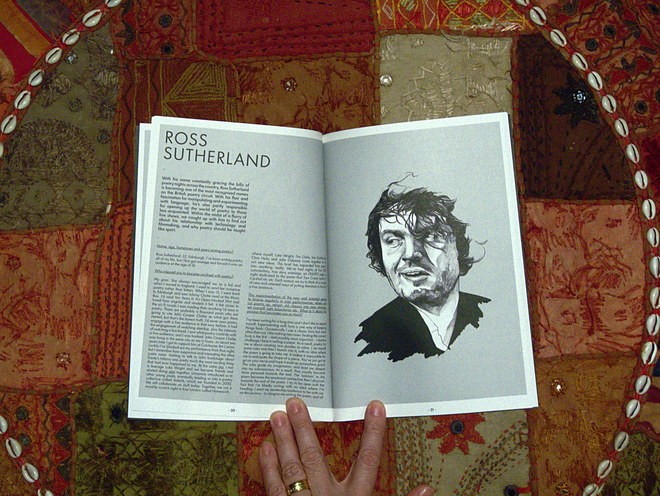 Besides providing us with an inspired collection of poems and illustrations, potshot #7 offers us three interviews. Where the poems and illustrations uplifted my desert-stuck existence, the interviews have an opposite effect. I am intrigued by Ross Sutherland experimenting with language, Alex Ramseyer-Bache's directorial film debut and Clinic, but I will have to return to them sometime later. For now, the overwhelming feeling I have is envy. Poetry, art and magazines should never be taken for granted.

is a naïve artist, children's illustrator, writer, crafter and scientist. You can see some of her work at minna.co.
---
0 comments