A trade magazine from an organisation named Cement Concrete and Aggregates Australia (CCAA) may not sound like most people's idea of a great read, but here we are. The CCAA itself is a non-profit that provides information and advocacy for various industries involved in construction. But rather than treat C+A as a dry technical journal, they've produced a beautiful architecture magazine — with an obvious common theme to all the featured buildings.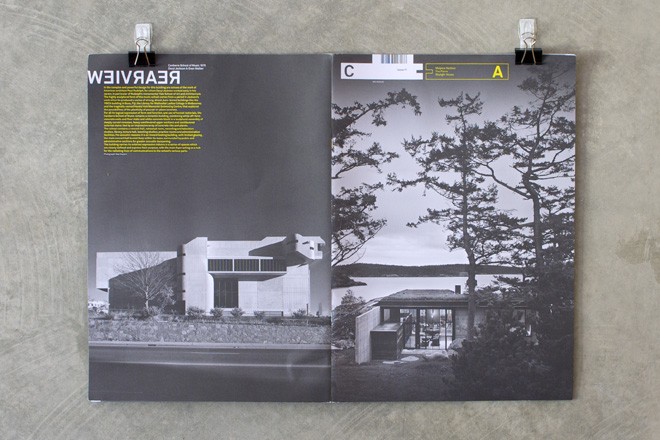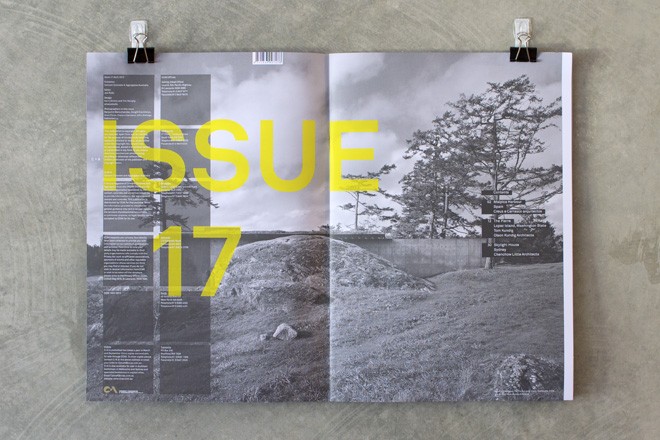 The first things that strike you about C+A are its size and design. At A3, it's big, and if you do stumble upon it in a newsagent, it's towers over its competition. The large format allows for some stunning photography, and it gives each subject a real sense of scale. Many images are run full bleed across the entire spread which can give even the humblest wall a monolithic quality.
Melbourne based emeryfrost have designed the magazine in two colours — black, and a spot colour which changes from issue to issue. The black and white photography actually increases the impact of the concrete structures and it helps to establish a very tight and cohesive look through the issue whilst keeping production costs down. We all know that concrete is (usually) grey, so by removing colour altogether, the focus instead becomes one of form and texture.
The main article breaks from the rest of the magazine, printed full colour on smaller glossy stock. It's a smart move which creates a nice break and makes the feature seem just a bit special. I particularly like how the cover of the glossy section interacts with the inside spread of the rest of the magazine, with type running across both.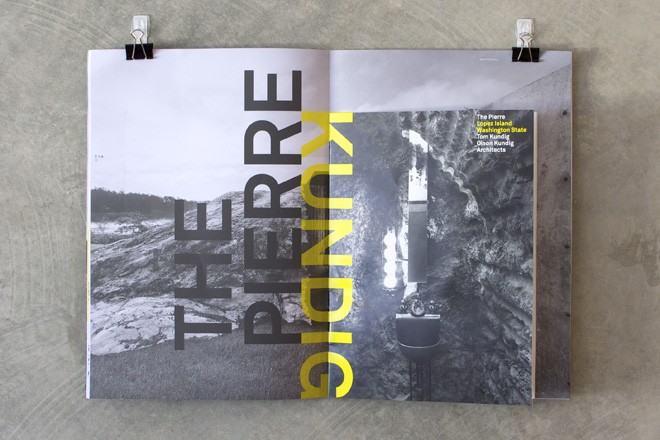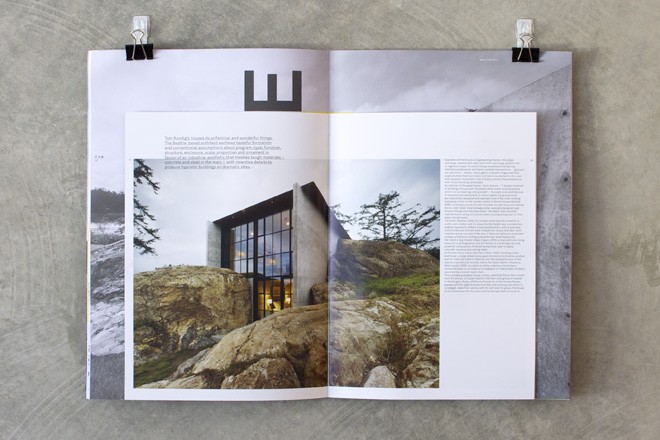 C+A is a brief magazine. There are three articles in all, plus a short "rearview" look at a classic building on the back cover. Each article has a short write up, plus a project statement from the architect. Although these at times say the same things, it's nice to see the two different viewpoints of the same building, and whether some of the architects intentions have been picked up on. Also included are quite detailed floor plans and elevations, which really help in understanding the spaces. Many of the featured projects in C+A have quite complex geometry, and it can be at times difficult to put together how it all works from the photographs alone, so the extra information is definitely welcome.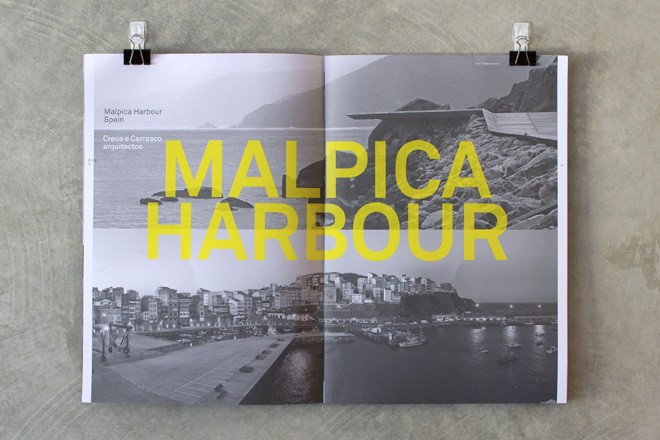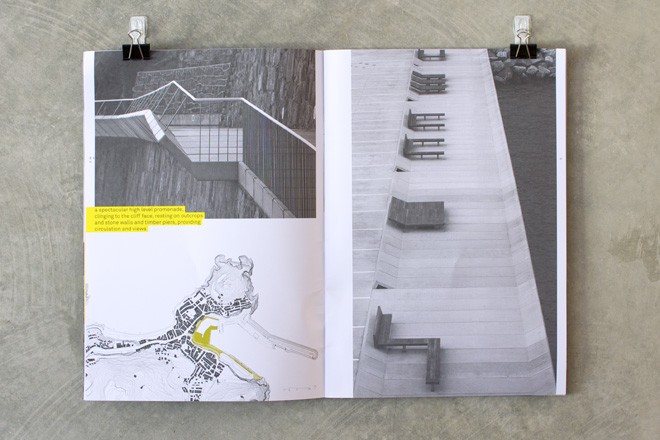 The first article is a redevelopment of a harbour in the small Spanish fishing village of Malpica. My usual impression of villages are that they are quite conservative, especially when it comes to the built environment, but conservative it isn't as angled promenades wrap around the horseshoe-like cliff faces. The Skylight House, meanwhile, hides a modern home behind a heritage facade, the highlight being a small courtyard in the middle with a tree rising up through the upper floors. Together with the eponymous skylights, they transform what could have been a cool and dark space into warm but calm space.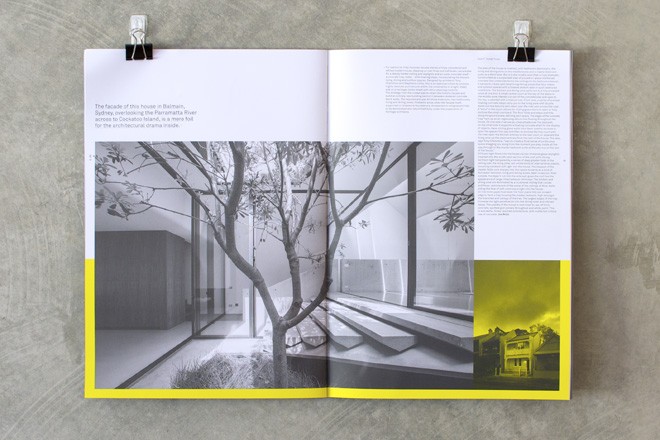 The featured article is on The Pierre house designed by Tom Kundig, a bunker-like structure embedded in a rocky outcrop. Solid, flat walls merge with the rough landscape creating a mix of brutalism and nature. You can see why this project was chosen for the colour section. The house relies heavily on the context of it's surrounds; the way the pre-cast walls, the rough rock forms, and the grassy hill interact and play off each other and at various points merge.
I'll admit, I love concrete. So for me, C+A is pure architectural porn. Whilst there are plenty of quality architecture magazines that go in to much more depth in their writing and showcase a greater variety of structures, this particular publication is one that knows its niche and celebrates it. CCAA have wisely produced a magazine which can inspire and show the possibilities of concrete as a building material, and in a way, that's a bigger service to the industries it represents then something more bookish could hope to achieve.
C+A is a difficult magazine to find. I chanced upon a previous issue in an independent newsagent known for stocking a few more obscure titles, but haven't seen it in public since (although you may have better luck at specialist architecture bookstores). It can be ordered direct from CCAA however, and a web adaption is available to be read for free.