From the moment that I spotted Hello Mr. here on Magpile, I was instantly charmed. The flirty title and portrait of a mustached gentleman basking amongst greenery were all capped off with the perfectly crafted tagline "about men who date men."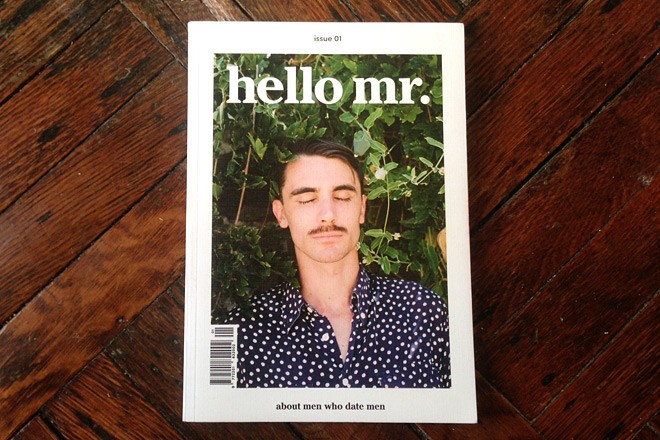 After reading more about this newly launched mag, it immediately sounded like the antithesis of what my gentlemen friends lament about when it comes to certain aspects of gay culture. I immediately spread the word to them and commented as such on the magazine's Magpile page. Imagine my surprise to find a reply from Ryan Fitzgibbon, the editor-in-chief himself, chiming in "A lot of the content is relevant to all, so I think you and your lady friends would also get something out of it, definitely a laugh!"
He was correct.
In its premiere issue, Hello Mr. immediately sets itself apart from other mags in its category. As much as I respect a good lifestyle mag or conceptual artsy-raunch zine (I see you, PINUPS!), I was surprised and delighted to find that Hello Mr. had more of a journal format, rife with a refreshing mix of content from the viewpoint of queer men. Within its substantial 167 pages contains personal essays, interviews, photo spreads and cheeky editorial quips about gay culture. Its mission to present "a new generation of men who date men" is reflected in its primarily younger featured creatives but maintains a good blend of viewpoints and global sources. The overall tone operates in a space that's sincere, clever and approachable.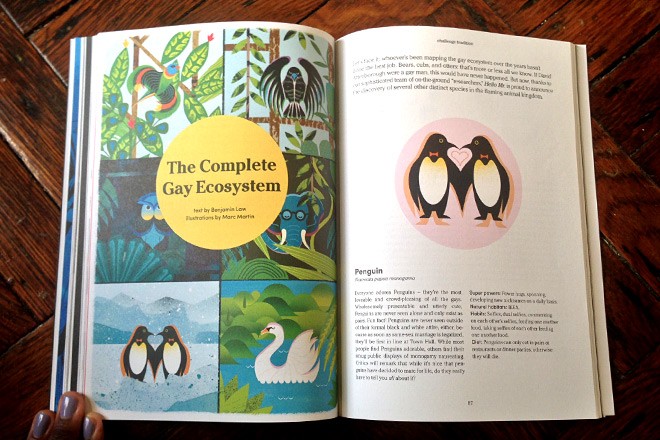 I admittedly gritted my teeth a little as Hello Mr. came to $30 with shipping but I had no regrets once I received it. You can tell that great attention has been paid to the quality of the magazine, right down to the lightly textured cover. In terms of design, simple grids and minimal typefaces let the content shine. The photography style has a natural, modern feel and there are some impressively vibrant illustrations accompanying articles. Overall, the content is slightly more weighted towards text over imagery but still strikes a good balance. Though I would love to see more of their photo and illustration picks next time around.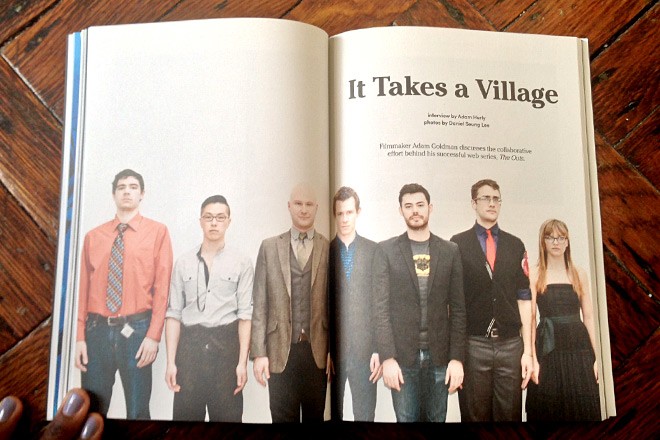 The premiere issue is broken up into four chapters centering on the theme of vulnerability. Mainly focused on personal essays, it packs in a wide range of topics and stories throughout. It kicks off fittingly with its first essay "For the Sake of Progress" by Cameron Shepherd. In it, the author muses finding and searching for community, his struggles with rigid exclusivity in gay culture and his call for more authentically progressive attitudes. In one of my favorite pieces, "Soulmates are Boring," Bernard Lansbergen tells the story of his parent's idyllic marriage and how his self resolve to experience the same kind of romance has created a push and pull with his own idealism. All at once relatable and TOO REAL.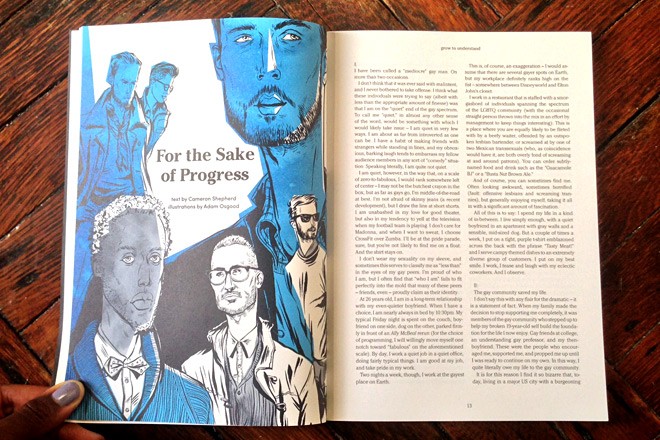 Some other gems include "Dating Under the Disco Ball" by Dan Saniski, "The Gay Men Project" by Kevin Truong, and "Where the Ribbon Ends" by Adam Curley. There's also a great set of interviews and features on personas like Australian field hockey player Gus Johnston, creator of the web series "The Outs," Adam Goldman, artist Robert Sherer and interior designer Chad McPhail. For good measure, you'll find a few editorials on the cheekier side like "The Complete Gay Ecosystem" and "Twenty-Five Things You Should Know About Being a Gay Man Before You Decide to Be One."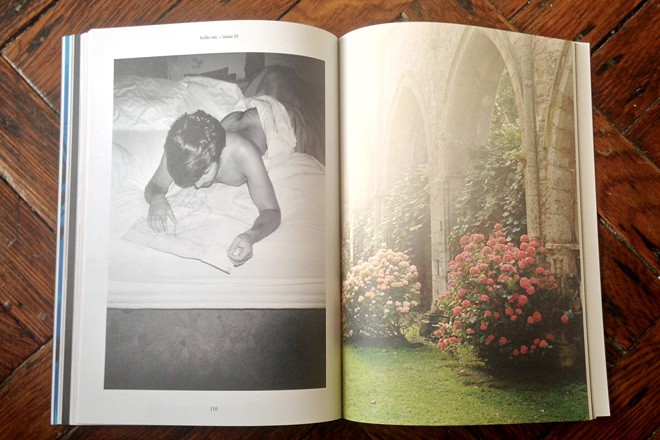 To Mr. Fitzgibbon's point, universal subjects absolutely do emerge from many of the stories, but never at the expense of the unique intricacies experienced by the featured gentlemen. All in all,Hello Mr. is really too lovely to pass up.